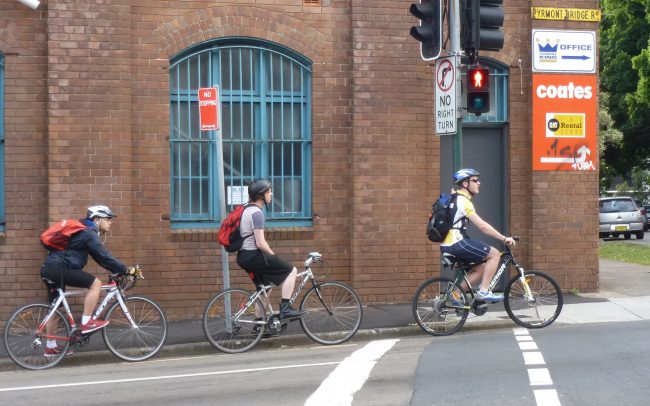 Background
Pyrmont Bridge Rd from Parramatta Rd in Camperdown to Murray St in Pyrmont is a popular cyclist commuter route into the CBD, despite being a moderately busy main road with no provision for cycling. It is direct and not very hilly, has wide lanes most of the way and doesnt have a lot * of heavy vehicles using it. It once was the main way into the City via Pyrmont Bridge, but now mainly serves local traffic into Pyrmont and the Fishmarket. [Note added in 2021- * heavy truck and trailer traffic from Westconnex or Metro excavations has increased markedly. Also see end of page for the "pop-up" bike lanes installed in 2020]
Leichhardt Council marked bike lanes on some sections in about 1998, and remnants can still be seen in Glebe. City of Sydney is now the controlling council for most of the road. It is classed as a State Road so RMS must be consulted on any changes.
Approaches to the RMS bore little fruit, despite some promises to "look into it" by various RMS officers. The recent restructure of RMS and retirements of staff who might have been willing to help meant these investigations were never continued.
A chance to mark bike lanes arose after a major resurfacing took place in 2015. Talks with RMS and City of Sydney staff took place and it was agreed to come up with some line marking plans for bicycles. City of Sydney drew up a plan but RMS in the end did not agree to do the work. A further attempt was made in 2017 to convince RMS to undertake some linemarking and, after a promising meeting, attended by Bike Leichhardt and IWBC reps, plus City Of Sydney staff, where it was agreed in principle to develop some new linemarking plans, subject to finding some funding, RMS again reneged, citing eventually "other priorities" and "not enough safety benefit" in providing line marking only. They want safety for cyclists, but not just yet.
The Govt announced in 2017 the relocation of the Fishmarket to the head of Blackwattle Bay on Pyrmont Bridge Rd. The move will mean a major rethink of access to the new site, perhaps even a shifting of Pyrmont Bridge Rd, and will present opportunities to install bike paths and lanes. The Danish architectural firm given the contract for the redesign of the market and the foreshore area expressed a desire to provide for bicycle access from surrounding areas. IWBC is very hopeful that RMS will at last be pushed into approving facilities on Pyrmont Bridge Rd.
Some recent small gains are that shared paths (bicycles allowed on footpaths) were proposed by City of Sydney and approved on Pyrmont Bridge Rd between Wattle St and Bellevue St, Glebe, also along the east side of Wentworth Park, and also on the footpath east of Harris St around the Fishmarket to the pedestrian crossing of Bank St, which many cyclists use to avoid the heavy traffic at the intersection under the Anzac Bridge flyover. Access to Bulwarra Rd North is also being improved. The footpath on the north side of Pyrmont Bridge Rd, between Taylor St, Glebe, and the Fishmarket, remains a footpath, despite many cyclists using it in preference to the road. Dangers from trucks using the cement loader driveways were cited as reasons not to make it a shared path, but pedestrians and trucks seem to cope, and the road is maybe more dangerous for cyclists.
See a photo essay on Pyrmont Bridge Rd.
In March 2018 the Greater Sydney Commission gave Inner West Council $21m for active transport works associated with the Parramatta Rd Re-development Project. The council has set up a Parramatta Rd Urban Improvement Project and a consultant's report has (Nov 2019) been finalised. This includes putting in a bike path on Pyrmont Bridge Rd from Parramatta Rd to Booth St, and a bike route on Albion St to Nelson St. But it has not included the missing link from Albion St across Johnston's CK via McCarthy Lane and Cahill Lane to Pyrmont Bridge Rd., or a shared path on Parramatta Rd from Nelson St to Pyrmont Bridge Rd. This latter option apparently will be included in the Masterplan for Parramatta Rd.
"Pop-up" bike lanes on Pyrmont Bridge Rd
An unexpected development in 2020 was the implementation of protected bike lanes on Pyrmont Bridge Rd, as a result of a response by the State Government to COVID 19 pandemic. The bike lanes run from Lyons Rd in Camperdown to Taylor St in Glebe. Efforts to extend the lanes west to Parramatta Rd have failed, due to the presence of the Westconnex site.
Disappointingly also  the lanes do not extend to Wattle St at the east end, although there are shared paths on most of the section. Lanes also end well before intersections like Glebe Point Road, forcing cyclists to merge into general traffic. A positive is the lowering of the speed limit from 50 K to 40 K. Despite resident opposition the  "pop-up" lanes were still there in May 2022 and Transport for NSW has said they will be retained and improved, with IWBC to be consulted.
(See also page or posts  on Parramatta Rd Urban Improvement)
The PRUIP also looked at Dot Lane in Leichhardt, behind the Forum, which could connect Norton St to Balmain Rd, and is a key part of an east west bike route using Albion St in the east and Jarrett St in the west.
LBUG, Bike Leichhardt and now IWBC have been pushing for that since 1992!
However, private land holdings  near Dot Lane have proved difficult to sort out and access looks as far off as ever. Council has instead signed a shared path along Parramatta Rd between Norton St and Balmain Rd. Access through the Bald Faced Stag Hotel car Park has been agreed to and there will be access through to Hay St and Albion St.